So, you're curious to know a bit more about the pit bull boxer, a mix of the pit bull and the boxer, a combination that seems to grow in popularity. After all, this mix of dog breeds, or "mutts" as they're so affectionately called, presents a whole host of benefits when owning one!
The pit bull boxer mix's parent breeds were bred as fighting dogs; however, their affection towards kids makes them great family pets. But they are best adapted to temperate climates, pet-free households, and owners that are physically active. In addition, they are intelligent and protective.
Now, if you're itching to learn some fascinating tidbits of information about this awesome pit bull boxer Mix, its history, personality, and health, then follow along with this comprehensive guide!
The History Of The Pit Bull And Boxer Breeds
Before we delve further, we should first break down the individual histories of the breeds that make up this fantastic pit bull boxer mix; of course, the pit bull and the boxer which are both fascinating in their own right.
First off, when it comes to the pit bull, it's essential to realize that the term "pit bull" is actually a catchall term for several related breeds, such as the American Staffordshire terrier, the American bulldog, the Staffordshire bull terrier, and the American pit bull terrier.
The pit bull has quite a controversial history as they were initially bred in the United Kingdom as fighting dogs. Additionally, they would be occasionally used in the cruel sport of bear/bullbaiting, whereby they were used to attack chained bears/bulls for entertainment.
Subsequently, due to the widespread connotation of pit bulls as fighting dogs and the health issues that arose from poor breeding practices, the pit bull is not officially recognized by some organizations, such as the American Kennel Club.
However, despite what you might think of the breed, their history can't just be distilled to them being bred to be violent. In all actuality, they have commonly been referred to as "America's Companion Dog" since they were often loyal companions to 19th-century British frontier settlers in the U.S.
In fact, as pit bulls grew in popularity, they began to be used as guards and herding dogs. In addition, they were often the friend of many children due to their protective and affectionate nature. So, despite the commonly held notion that these dogs are inherently violent, they actually prove to be the opposite!
Although, like with all large dog breeds, it's always essential that you keep a lookout for any potential aggression that can be dangerous as they become older! Early signs of aggression in pit bull puppies can be effectively dealt with through methods such as using positive reinforcement when the dog is calm.
Now that we've cleared up the history of the pit bull, it's time to delve into the history of the pit bull boxer mix's other parent breed: the boxer.
The boxer, similar to the pit bull in its robust, large frame, has a similar history to the pit bull. The boxer, like the pit bull, also emerged around the 19th Century in what is now Germany to be used in the bloodsport of bullbaiting.
Interestingly enough, the boxer's original name in German, the "Bullenbeisser," translates to the "Bull Biter," whereas the English rendition is thought to have originated from the fact that boxers when fighting one another, tended to use their paws much like a boxer would.
The boxer breed was also the product of crossing multiple dog breeds, such as the Great Dane, several terrier-type breeds, and the English mastiff. Over time, as bullbaiting was rightfully banned, the boxer's innate strength meant that over time they were more often used to herd animals in slaughterhouses.
Unlike the pit bull, the oxer gained official acknowledgment from the American Kennel Club as its own breed in 1904. Since then, their popularity has grown in American Pop culture to be seen as an excellent family pet.
Both pit bulls and boxers have also been frequently used professionally in various occupations such as the police force, military, private security, service dogs, and even tracking dogs used for hunting due to their ability to overpower large prey.
Despite being involved in some of the most extreme and physically demanding fields of work, the boxer and the pit bull are fantastic dogs with a naturally friendly and sweet disposition if raised well and with firm boundaries.
So, when it comes to owning a pit bull boxer mix, it's really a matter of getting the best of both worlds! The pit bull boxer is selflessly devoted to protecting their family and household and possesses a keen sense of intelligence, high activity levels, and an undeniably warm personality.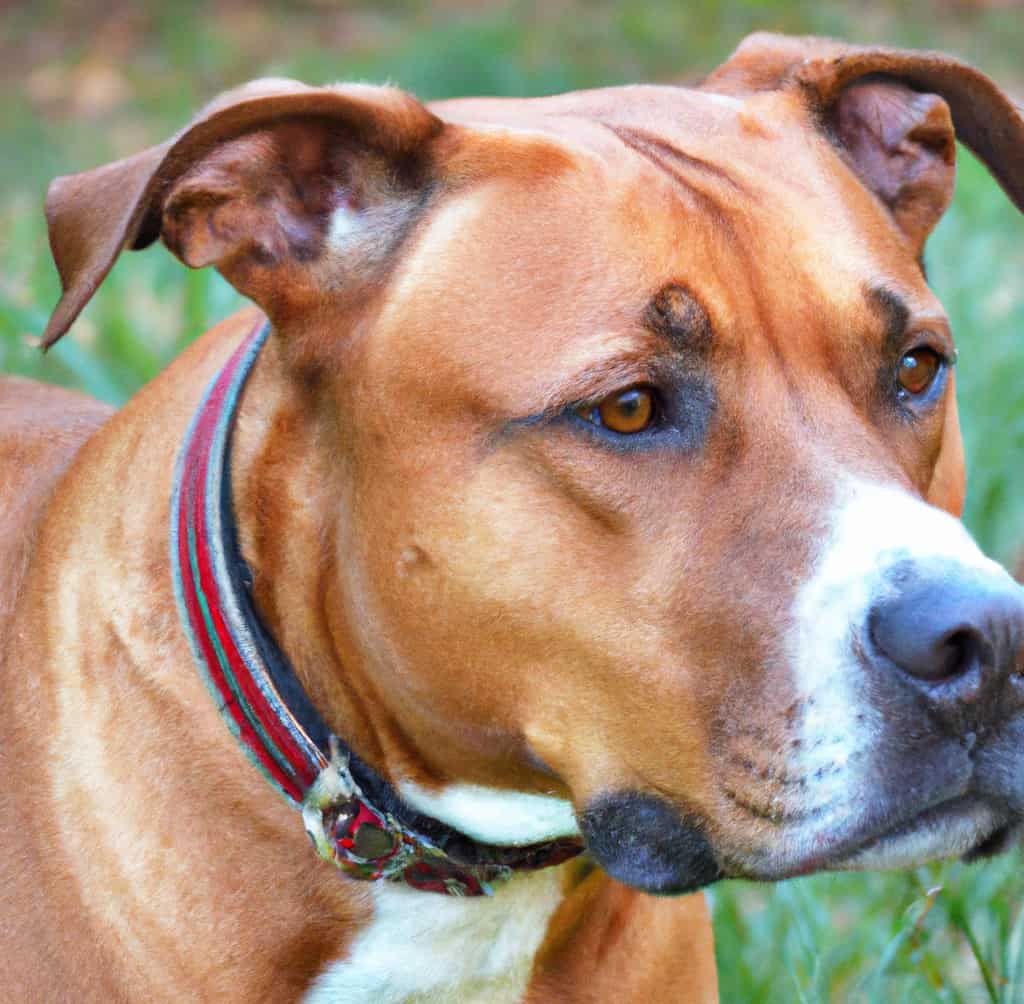 The Ins And Outs Of Owning A Pit Bull Boxer Mix
Suppose you're worried about the intricacies of potentially owning this powerful and impressive mix of dog breeds. In that case, you should consider the following multiple factors before you set out to get one.
What Do They Look Like
The pit bull boxer mix is typically medium to large in size, with the average weight for males between 65 to 80 lbs. and females 50 to 65 lbs. The height of the pit bull boxer mix at the shoulders usually lies between 22 to 25 inches, and they are athletic in their physical profile.
The pit bull boxer is also known for its defined musculature, broad chest, and wide head with a relatively short muzzle. Many pit bull boxer mix dogs also present the typical boxer feature of massive, floppy ears, which make these dogs even more ridiculously cute.
The average pit bull boxer usually has brown eyes. Still, some even have Heterochromia, which is a genetic trait that results in two mismatched eyes, like the striking combination of brown and blue eyes.
Additionally, most pit bull boxers have dark noses; however, regular sunscreen application is vital for those with pink noses.
The coat colors for pit bull boxers usually come in brindle, a dark brown and tan admixture of colors, or fawn, a dusty tan coat with a blue undertone and a black muzzle. Pit bull boxers can also come in a completely white or black coat or fawn with white patches of fur typically on the chest or underbelly.
The pit bull boxer mix is relatively easy to care for when it revolves around grooming, as they have a short, compact coat. However, they are known to shed small amounts of fur almost constantly, so it's essential to give them a brush about once every week.
Their Temperament
So, as we've mentioned before, the pit bull boxer mix has quite an incredible personality. Still, as a dog that is predisposed to separation anxiety when its family members aren't home, it's imperative that you socialize with them at a young age.
Suppose a pit bull boxer is unsocialized when it comes to separation anxiety. In that case, they tend to resort to the destruction of anything lying around them as a way to cope with their distress. So, if you value your slippers in their unchewed state, you have to nip this issue in the bud as soon as possible.
Despite their controversial history, the pit bull boxer mix is well-adapted to the family lifestyle! Their friendliness and protectiveness mean that this mix often does very well when it comes to living with children; however, their high prey drive means that they tend to be aggressive to other pets.
That being said, the pit bull boxer is typically not very tolerant towards other dogs from outside the home. They are likely to behave cautiously towards unfamiliar dogs during their walks, so socialization is critical.
The Health And Lifespan Of The Pit Bull Boxer Mix
As a mixed breed, the pit bull boxer mix usually suffers less from the congenital health issues that affect purebred pit bulls and boxers. These include hip dysplasia, degenerative myelopathy, underactive thyroid, and dislocation of the kneecaps.
For pit bull boxers living in extreme climates is also detrimental to their health and can affect them in the long term, so avoid owning one if you live in excessively hot or cold temperatures. Otherwise, they do not adapt well and are likely to be lethargic and less happy overall.
Most notably, like with all larger dog breeds, it's always important to keep track of your pup's weight, especially when it comes to pit bull boxers, which are inclined to gain weight quickly. So, it's best to keep a close eye on your pit bull boxer mix's daily food intake and exercise regimen.
Some pit bull boxers, like their boxer ancestors, also tend to display the typically droopy face, which you should clean weekly to prevent infections! The compressed muzzle of this mix also means that they tend to fair worse in scorching weather, so take caution to avoid overheating.
The pit bull boxer is genuinely a super active dog, so if they don't exercise regularly will often lead to bouts of destructive behavior. Most sources recommend that your pit bull boxer receives at least 1 to 2 hours of physical activity per day, so be prepared to go on some long walks.
Since these dogs have powerful jaws and get bored quickly, it would be a great idea to get several chew toys, ropes, and bones that will keep them entertained and content.
If you're into hiking, swimming, running, or walking, then the pit bull boxer will be a great companion for you! However, if you're a couch potato or don't have the time to meet this dog's physical activity requirements, this mix may not be for you.
On average, the pit bull boxer has a longer than average lifespan for a larger dog breed, with most pit bull boxers living up to 10 to 14 years. However, their lifespan is also heavily dependent on their family history as those that are purebred, that is to say, inbred, have significantly shorter lifespans.
The Cost Of Buying A Pit Bull Boxer
Suppose you're in the market for a pit bull boxer mix and are concerned that having one might come with an absurdly expensive price tag. In that case, you're in luck, as the pit bull boxer mix is super common amongst both adoption shelters and breeders.
For a pit bull boxer mix, most breeders will charge between $500 to $1000 per puppy; however, buying puppies often comes with the issue of poor breeding practices. So, always make sure to do your homework before you consider buying one.
In any circumstance of owning a dog, you'll have to consider vet bills for vaccinations, spaying/neutering, and general health check-ups.
In addition, if you buy a dog from a breeder that lacks the correct certifications, you might also have to contend with dealing with genetic issues arising from poor breeding practices.
The Legal Implications Of Owning A Pit Bull Boxer Mix
Since pit bulls are heavily regulated and even completely prohibited in several dozen countries, these restrictions also often extend to pit-bull mixes, such as the pit bull boxer mix. So, check your local laws before you set your heart on getting a pit bull boxer mix.
In some U.S. states and cities, it's also a legal requirement for pit bulls, and pit bull type breeds to be muzzled and adequately secured when walking in public. You may also be required to renovate your property, such as installing a fence and having to spay/neuter your dog.
Conclusion
Since we've demystified the pit bull boxer mix, you've probably come to learn that this dog mix exceeds expectations in its affectionate character, good health, high athleticism, intelligence, and exceptional loyalty to its owners.
It seems like all of the outstanding traits of both pit bulls and boxers are embodied in this mixed dog, like its exceptional intelligence, playfulness, and affectionate nature, making the pit bull boxer mix a true gem of a dog that would make an excellent addition to the family.
Resources